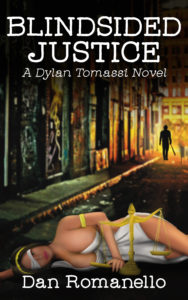 DYLAN TOMASSI RETURNS IN THIS PROVACTIVE THRILLER
NOW AVAILABLE
CLICK ON ONE OF LINKS BELOW TO ORDER
BLINDSIDED JUSTICE (A Dylan Tomassi Novel, Book 2)
Dylan Tomassi returns in this sequel to the original coming of age thriller, PAPERBOY. Having grown up poor, Dylan is now a successful private investor, wealthy beyond his wildest dreams and living an idyllic lifestyle on Florida's gulf coast. Cognizant of his humble beginnings, he is committed to paying it forward as he prepares for the opening of his charitable foundation's crown jewel.
But crime is raging out of control following the election of an opportunistic carpetbagger and Dylan and those closest to him become victims of a broken system that places them in grave danger. He utilizes his considerable resources to protect those he holds dear, but everyone and everything are not what they appear to be.
An exhilarating action thriller, BLINDSIDED JUSTICE drops you in the middle of an epic battle between justice and subversion.
A COMING-OF-AGE CONTEMPORARY THRILLER INTRODUCING DYLAN TOMASSI AND HIS INSPIRATIONAL RAGS TO RICHES STORY.
Dylan Tomassi grew up poor, raised by a single mother, among the wealthy and privileged in Fairfield County, Connecticut. His life is changed forever after he's befriended by a reclusive widow he meets delivering newspapers.
Dylan relocates to Florida's west coast where he becomes a successful private investor. His newfound socioeconomic status introduces him into the upper echelon of Florida society where he finds that many things going on in the world simply don't make sense. With the sage advice of his elderly mentor, Dylan navigates life in a turbulent modern-day society while working to make a difference in the world when he's not running into nefarious characters or busy keeping his best friend, wealthy playboy Alex Malloy, out of hot water. With corruption, debauchery, deception and murder swirling around him, Dylan proves nice guys can finish first.
PAPERBOY is the first in a series of Dylan Tomassi novels.
Copyright © 2023 Author Dan Romanello – All Rights Reserved.